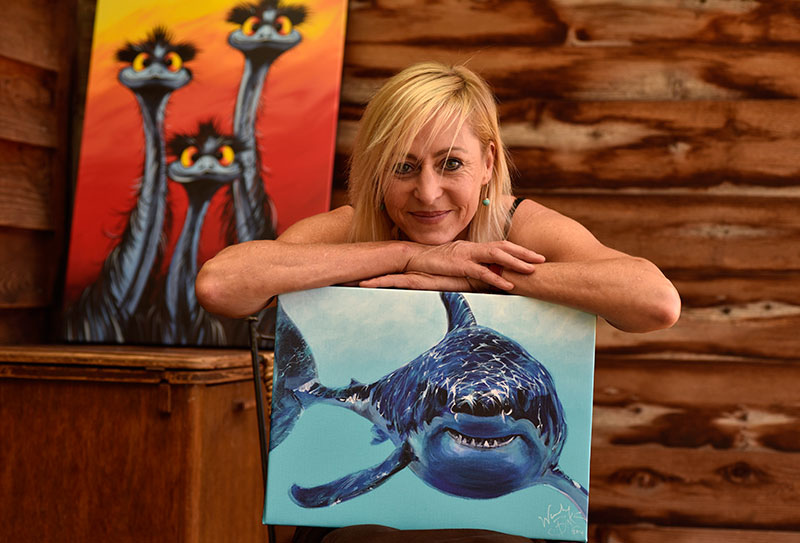 Wendy grew up on a dairy farm in the beautiful town of Denmark, South Western Australia and from an early age developed a keen interest in animals and the outdoors.
After her graduation with a BA in Art & Design from Curtin University in 1982 (majoring in ceramics), Wendy based herself and her business 'Stunned Emu Designs' in Fremantle, Western Australia. Initially she produced handmade and hand painted pottery, combining her interest in Australian wildlife with her art. She became well known for her brightly coloured terracotta pieces and quirky characters, particularly her trademark 'emu with attitude'.
Since opening a shop in the historic Fremantle Markets in 1995, Wendy has developed and extended her range of products to include mugs, stationery, books, prints, bags and her much sought after original paintings.
Her humorous designs are popular with all age groups, but particularly with children. The enthusiasm of children for her designs prompted Wendy to write her first children's picture book, 'Where's Stripey?' with 'Stripey' a baby emu as the main character. Having written, illustrated and self published the book to great acclaim (It won the prestigious WA Premiers Award for Children's books), Wendy produced two more books starring Stripey: 'Scrambled egg' which was shortlisted for the WA Premier's Awards and 'Invisible Me'.
'Where's Stripey?' has become a best-seller, having sold over 150,000 copies.
Stripey has since featured in many excellent theatre productions and plays and has been read on TV by actor Shane Jacobson ('Kenny' fame) for the BBC CBeebies channel, and by West Coast Eagles footballer Lee Schofield for the WA State Library's Better Beginnings program for literacy.
He and other characters from Wendy's books are printed larger than life on the walls of the Paediatric ward of Fiona Stanley Hospital in Perth, Western Australia. These almost 90 images were kindly financed by the Lions Club of Bullcreek.
Wendy is an avid outdoor enthusiast, and has been actively involved in many adventurous activities during her lifetime. These have included rock climbing, scuba diving, cave diving, trekking, mountain biking, rogaining and kayaking. Much of her creative inspiration comes whilst she is undertaking extreme solo walks such as the Larapinta Trail and the Australian Alps Walking Track and remote walks in the stunning Kimberley region. She also soloed the 1000km Munda Biddi mountain bike trail from Albany to Perth, Western Australia and the Coast to Coast walk across England.
Wendy has combined her love of the natural world with an interest in conservation and has been a volunteer on several conservation projects. She is also a licensed venomous snake relocator, volunteering for 'WILDCARE'. She has been actively involved in the ongoing work of 'PROJECT NUMBAT' who are striving to save the endangered numbat, which is Western Australia's fauna emblem. Wendy has also spent much time in remote areas near Esperance and Albany (South Western Australia), surveying and monitoring the critically endangered Western ground parrot.
To raise awareness of their plight, Wendy introduced Toot, the Western ground parrot as a new character to feature alongside Stripey in 'Invisible Me'.
See: www.western-ground-parrot.org.au
Wendy presents at schools and libraries and writers festivals across Australia and overseas, inspiring children and adults alike about books and wildlife.
She also runs workshops on how to be a successful self publisher, art demos at local Art Associations, and painting workshops for non-painters.